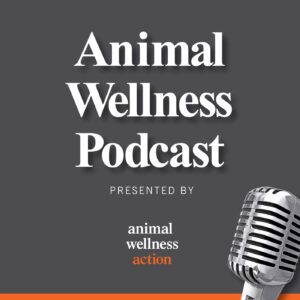 Whether you're taking an afternoon drive, on the way to work, exercising, or perhaps the best way, walking your dog — you'll be able to listen to the Animal Wellness Podcast episodes covering horseracing, with Founder Wayne Pacelle and Executive Director,  Chief Lobbyist and editor of www.HISAwatchdog.org Marty Irby and with Director of Public Relations Joseph Grove as the host.
Harness racing: A struggling enterprise grapples with animal wellness | Episode 45
Oct 4th, 2022
American horse racing has been in peril for quite some time. As a member of the Coalition for Horseracing Integrity, we've been working to stamp out doping and whipping in the sport, and bring an end to horse slaughter as well. 
Unfortunately, rogue operators and horse racing insiders who've flouted state laws and regulations for years continue to work against proper implementation and enforcement of the new law. 
But there is hope thanks to the good apples in American harness racing like the U.S. Harness Racing Alumni Association and our good friend and coalition partner Freddie Hudson, a retired trainer, author, and founder and CEO of the group. Freddie's been the key ally that's made the most difference in this area and is creating awareness and bringing newcomers into the fold with our efforts.
In this episode, we interview Hudson, who gives listeners some key insight into the latest happenings on this issue.
Monty Roberts, trainer to the Queen, talks horses, whipping and Baffert | Episode 41
June 8th, 2022
Monty Roberts is one of the most celebrated and admired horse trainers ever to take the reins. Not only has he sold more than 6 million copies of his blockbusting "The Man Who Listens to Horses" and published hundreds of training videos, he has been repeatedly called in for service by Queen Elizabeth II and traveled at her behest to more than 40 countries.
Here he weighs in on the topics of whipping horses during races, the wild ride of Rich Strike in last month's Kentucky Derby, the fate of notorious trainer Bob Baffert, and what he hopes to do next, in the twilight of his career.
The sad fate of Thoroughbred horses, with Hall of Fame jockey Chris McCarron | Episode 38
May 4th, 2022
After the thrill and spectacle of Thoroughbred races, the athletes themselves too often face a cruel, horrific fate. One Kentucky Derby winner, Ferdinand, was actually sold for human slaughter. Before the races, they are likely to experience doping to mask their pain, resulting in on-track breakdowns that are lethal for them and dangerous for jockeys. Hall of Fame jockey Chris McCarron has become a vocal opponent of these practices.
Bob Baffert, doping and an industry in need of further reform | Episode 28
May 29th, 2021
Our guest is Joe Gorajec, former head of the Indiana Horse Racing Commission and the founder of Horse Racing Integrity Consulting. The panel discusses Bob Baffert, the 2021 Kentucky Derby doping scandal and the need for additional reforms and enforcement in Thoroughbred racing.  
PAST Act faces challenges, featuring Clant Seay | Episode 22
Nov 22nd, 2020
Animal Wellness Action finds its PAST Act momentum challenged by groups inside the animal-welfare community. Anti-soring grassroots organizer Clant Seay, a.k.a. Billy Go Boy, makes an impassioned appeal to get the bill voted and signed into law.
Bad News for big-lickers and Part II of Monty Roberts | Episode 21
Nov 12th, 2020 
Marty Irby, executive director of Animal Wellness Action, shares big news for the PAST Act. In addition, host Joseph Grove continues the conversation with horse-trainer Monty Roberts, who is recognized globally for his pioneering methods in violence-free training as well as his work with sufferers of PTSD. 
Part I: Monty Roberts on violence-free training & horse protection | Episode 20
Sep 28th, 2020
Monty Roberts discusses how he overcame horrific child abuse to eventually become the horse-trainer for Queen Elizabeth II. Marty Irby, himself recently recognized by Her Majesty, shares exciting news from the Hill on legislative protections for our equine friends.
Fixing the lethal abuses in horse racing | Episode 7
Jan 28th, 2020
About 1,000 racehorses a year die in contests they never asked to join. Doping and the overuse of therapeutic drugs are largely to blame, along with harmful overbreeding, and about 12% of the horses slaughtered for human consumption are former racehorses. Arthur Hancock III and Staci Handcock, owners of Stone Farm in Kentucky – which has raised countless Thoroughbreds, including three Kentucky Derby winners – talk about two pending pieces of Federal legislation that would help our equine friends but need the support of Churchill Downs and trainers like Bob Baffert to be passed and signed into law.
What's up with those committee chairs? | Episode 2
Dec 4th, 2019
We talk about the key role of committee chairman in expediting or halting the progress of federal animal-welfare legislation. Plus: Lawmakers take aim at shark-finning, and the battle intensifies against Thoroughbred deaths on racetracks.